Are you looking for a light meal replacement? Or do you want to get rid of a few kilos? Then the our Light Diet Shake is the perfect choice for you. One shake equals  one light meal, is rich in fibre for a long-lasting feeling of satiation and contains all the vitamins and minerals you need. A perfect way to lose some weight or to replace a light meal!
The best meal replacement shakes for weight loss.
Jake makes it possible to lose some weight in a healthy and responsible way with diet meal replacement shakes. One Light Shake from Jake equals one complete meal. But with fewer calories. Yet with a Jake Light shake you get all the nutrients you need. The proteins, carbohydrates and essential fats are carefully balanced and the weight loss shakes are enriched with all essential vitamins and minerals. This way you can replace your meals with shakes in a responsible way, without losing any nutrients, vitamins or minerals.
Replace meals with diet shakes to lose weight.
During one day you have a certain energy requirement. On average that is about 2000 kcal per day. This means that you also need to consume this number of calories during a day in order to stay at a healthy weight. However, do you want to lose weight? Then you have to make sure that your daily energy intake is lower than your energy consumption. With Jake this is easier than ever!
A weight loss shake from Jake contains 500 kcal and with this you can replace a complete meal. If you replace three meals in one day with Jake's light shakes you will get a total calorie intake of 1500 kcal. Because your body needs more energy in one day than you take in, you burn your reserves (read: body fat).
Interested in replacement shakes, but not trying to lose weight?  Try our Jake original meal replacement shake.
Carefully composed weight loss shakes.
The nutrients in Jake's diet shakes have been carefully chosen. A shake contains around 500 kcal per meal and contains 33% of the vitamins and minerals you need during a day. The energy sources in the shakes consist of 32% of proteins, 28% of carbohydrates and 40% of fats.
The proteins are obtained from vegetable sources and contribute to a long-lasting feeling of satiation. The carbohydrates come from oats, a source of complex carbohydrates and rich in fibre. The fibres also contribute to a long-lasting feeling of satiation. The fats in the waste shakes are obtained from linseed, sunflower seed and coconut and are rich in the essential fatty acids Omega 3 and Omega 6.
Shake
If you want to feel the fittest you can be and maintain a healthy weight while you're at it, go for Jake Original.
Subscribe monthly and save

$

13

$

7

$

26 (?)
Want to start drinking shakes to lose weight?
Want to start drinking shakes to lose weight?
Haven't you ever had a Jake weight loss drinks shake before? Or can't you just choose between the different flavours? Then go for Jake's Light Starter box! You will receive all the flavours of shakes and Vitamin bars, a shake cup and an information book. You can go for a small, medium or large variant. Try Jake's light shakes and bars and discover your favourite.
Healthy, quick and easy diet shake.
Jake's diet shake is not just a healthy and an ideal light meal shake to lose weight with. The shake is also very easy to prepare. You put the contents of a bag in a shake cup and simply add 400 ml. of water. Shake. And your diet shake is ready to drink. So with Jake you can always eat your meals, wherever you are and no matter how much you're in a hurry! No more excuses!

Do you want even less work on the preparation? Try Jake's Vitaminbars!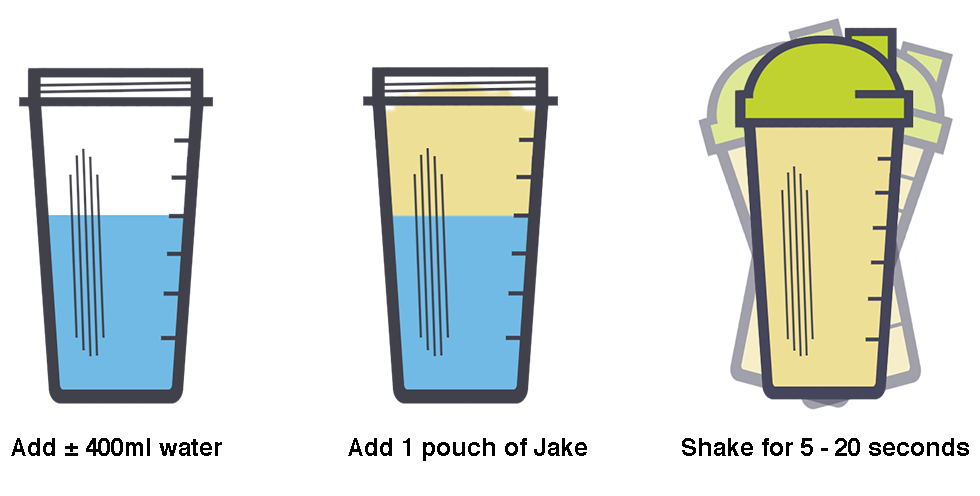 Free shaker with your first order.
All new customers will receive a free shaker with their first order! This way you can easily prepare your first Jake Shake.
Subscribe and receive a discount on weight loss shakes.
Would you like to receive your light shakes monthly? That's possible! Subscribe to Jake and get up to 10% discount! Receive your order monthly and adjust your order whenever you want! You don't want to receive Jake anymore? No problem! You can cancel your subscription whenever you want.
Frequently asked questions
If you're of average height and weight, and you're not a big snacker, go for Original. It packs 667 kcal, 40 grams of protein and 33% of every nutrient you need.
If you'd like to have somewhat lighter meals, e.g. because you'd like to shed some weight, or you simply prefer a lighter meal, choose Light. It provides 500 kcal per meal, plenty of fibers and 33% of every nutrient you need.
If you can use more energy, e.g. because you live a very active lifestyle you'd like to gain some weight, choose Sports. Sports is based on a 3000 kcal/day diet. Every shake provides 750 kcal, 40 grams of protein and 25% of every nutrient you need.