A single meal as a source of fibre, protein and 26 essential
vitamins and minerals? It's easier than stealing candy from a baby.
It's complete food.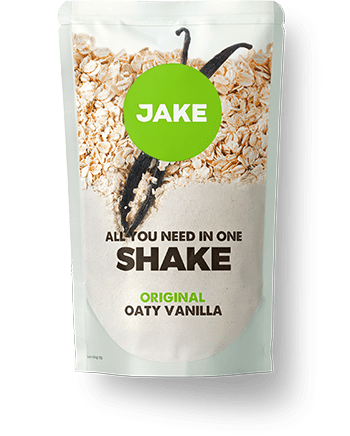 Spend your free time the way you want to.

If you ever skip breakfast, miss lunch or eat unhealthy just to get something into your system, this is for you. When you don't want to spend half an hour a day on groceries, preparing meals and washing dishes. Jake's got you covered.
The concept of complete food isn't new. It has been around for decades, reserved to places where more care for nutrition is needed. In 2015 we introduced our first complete food, the shake.

With Jake we've created food based on its nutritional profile, which allowed us to form the right balance between every nutrient you need. You will notice it when you use our products. When you eat the right ratio of carbs, proteins and fats, it will result in a steady flow of energy throughout the day.
When should I take a Jake?
There is no strict time or schedule for that matter, it's no diet, there are no rules. Use Jake anytime you like. For example, start your day with a shake or a vitaminbar and you have enough energy to get through the morning.
Others have Jake for lunch or a vitaminbar in the afternoon around 4 o'clock. Use it when it suits you. 
What others think of Jake.

EASY & QUICK
Pour 400ml water into the shaker, add one pouch of Jake, shake for about 5 sec. Cheers!

100% VEGAN
All the ingredients of Jake are plant-based, no animal derived products are used.

COMPLETE FOOD
All the right nutrients, vitamins and minerals in one meal.

FREE SHIPPING
Shipping is free, always.
"I have been using Jake for 2 months now, and I love it! I don't like to cook after a long day at work and I often ordered fast food. After using Jake, my fat percentage has dropped and my BMI has also improved!"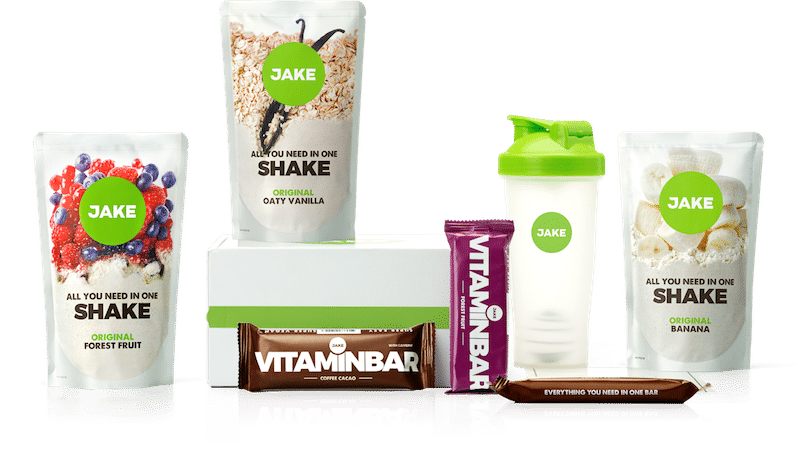 ✓ Shakes in 3 flavours:
Oaty Vanilla, Banana, Forest Fruit
✓ Vitaminbars in all 3 flavours:
Forest Fruit, Coffee Cacao, Banana
✓ Shaker
✓ A booklet to get you started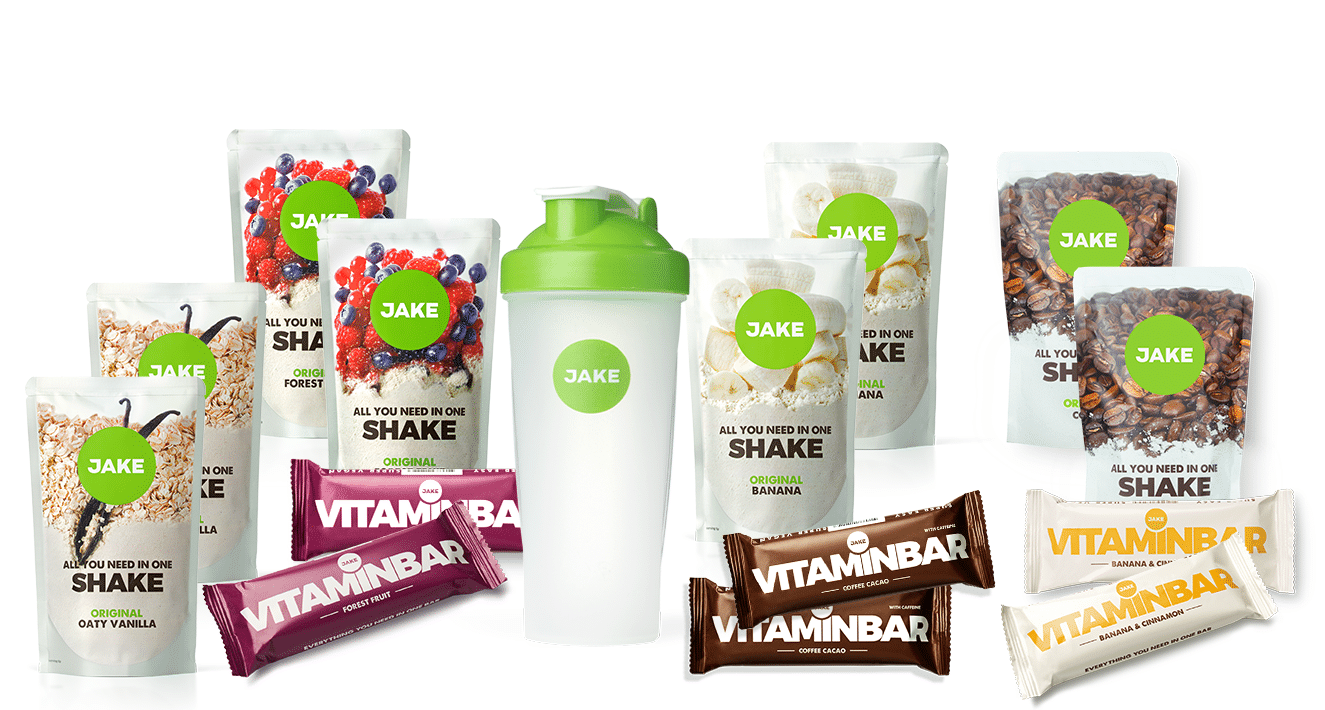 ✓ Shakes twice in all 4 flavours:
Oaty Vanilla, Banana, Forest Fruit, Coffee
✓ Vitaminbars twice in all 3 flavours:
Forest Fruit, Coffee Cacao, Banana
✓ Shaker
✓ A booklet to get you started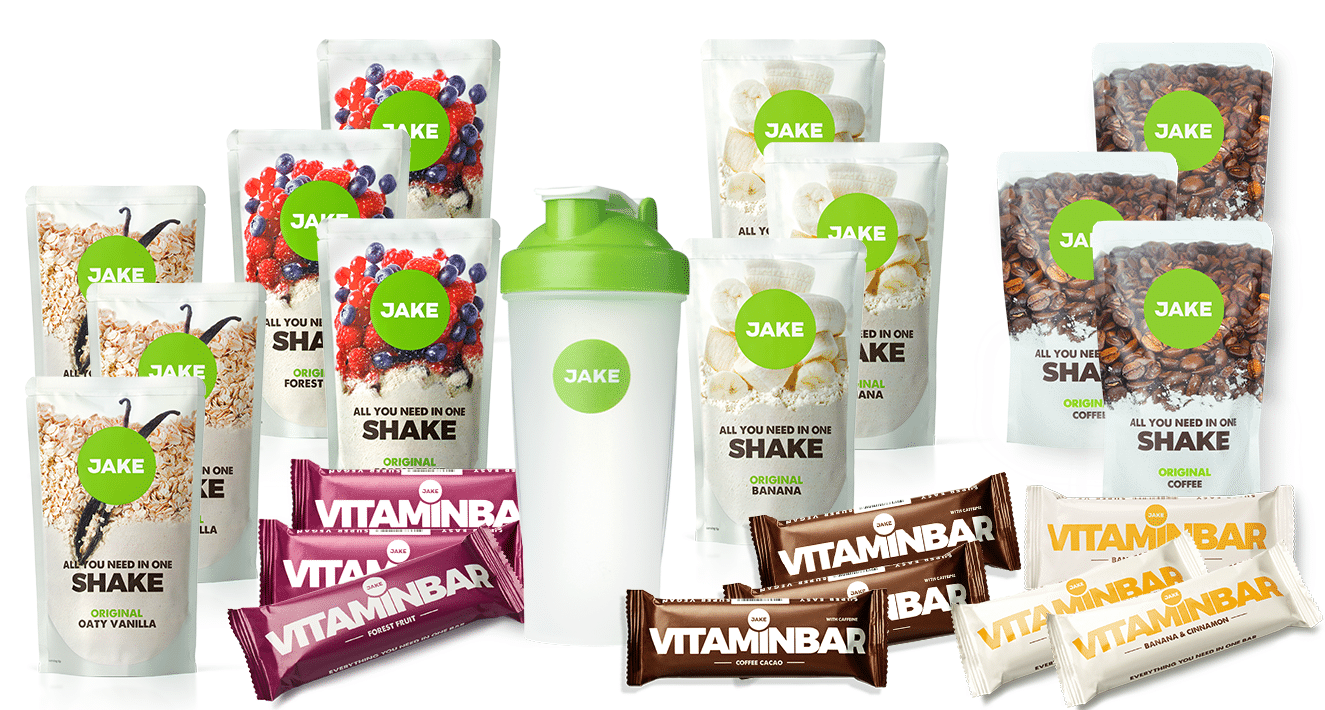 ✓ Shakes 3x in all 4 flavours:
Oaty Vanilla, Banana, Forest Fruit, Coffee
✓ Vitaminbars 3x in all 3 flavours:
Forest Fruit, Coffee Cacao, Banana
✓ Shaker
✓ A booklet to get you started
We believe that we, as the world, can do better. We need to work towards a healthier world, with healthier people. That's why our mission is to make eating healthy easy. We hear you think, how does that help? We believe that the best way to help people change their bad habits, is by offering a better option. And, that would be complete food that is vegan, plant based and easy to make. These features could mean a world of difference.
"Jake is the perfect lunch for me during busy working days. Quickly ready, easy to carry, but especially good energy for a long time! After my shake I can move forward all afternoon."
"I often use the Jake Vitaminbar as breakfast and supplementary snack around 3 p.m. A Vitaminbar is quick to eat, no preparation required at all, for me it is pure convenience while I get exactly what I need!"
"I have a tendency of forgetting to eat breakfast, so the Vitaminbars of Jake are a real life saver. I love the crunchy bits inside and it keeps me full for quite some time. A perfect start of the day!"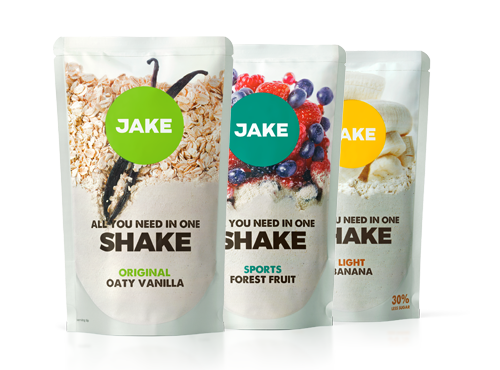 ✓ From €2,24 per meal (491 kcal)
✓ Plant based
✓ 33% of your daily needs
✓ All nutrients you need
✓ Single packed meals
✓ Keeps you full for about 4 hours
✓ Convenient
✓ Vegan
✓ No scooping
✓ From €1,49 per meal
✓ A 330 kcal snack
✓ Ready to eat
✓ Vegan
✓ Nuts-free
✓ Lactose-free
✓ Animal-free
✓ 25% of daily amounts of vitamins & minerals
✓ Packed with nutrients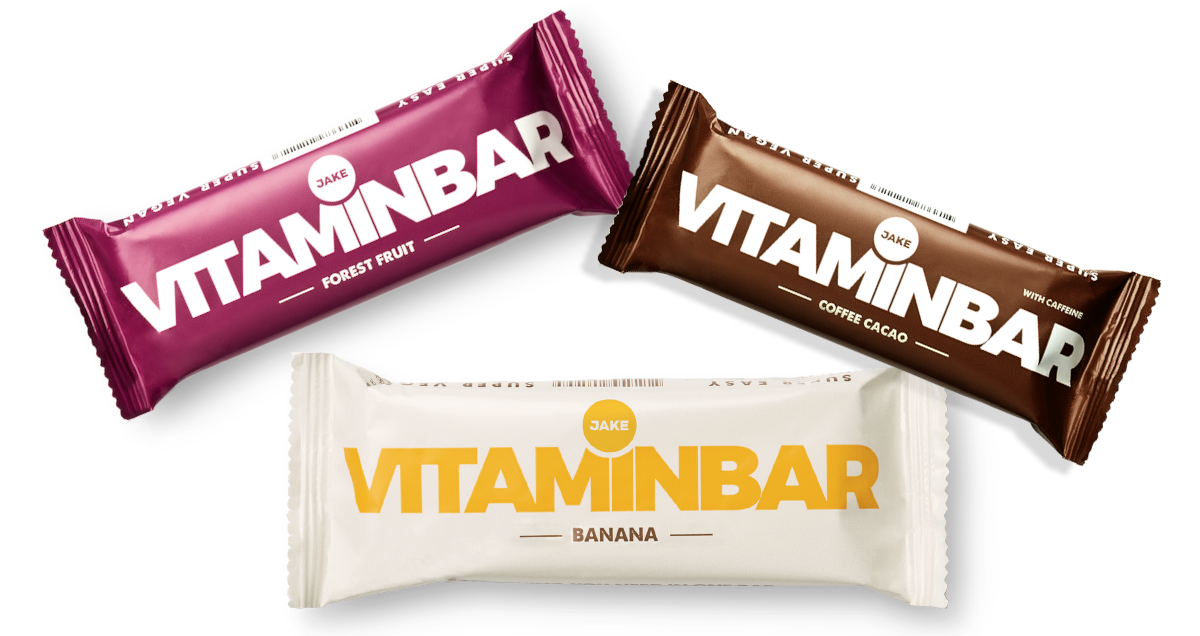 26 essential vitamins and minerals in Jake's complete food.
✓ Vitamin A
✓ Vitamin D
✓ Vitamin E
✓ Vitamin K1
✓ Vitamin C
✓ Thiamin
✓ Riboflavin
✓ Niacin
✓ Vitamin B6
✓ Folic acid
✓ Vitamin B12
✓ Biotin
✓ Pantothenic acid
✓ Potassium
✓ Chloride
✓ Calcium
✓ Phosphorus
✓ Magnesium
✓ Iron
✓ Zinc
✓ Copper
✓ Manganese
✓ Selenium
✓ Chromium
✓ Molybdenum
✓ Iodine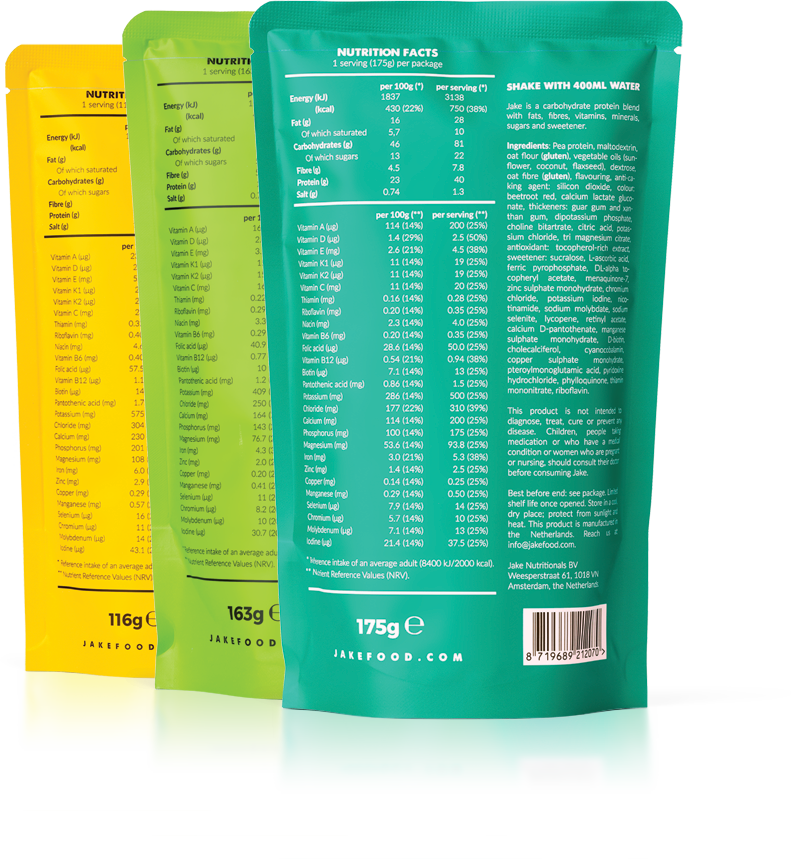 Starter Box
Get the Shakes in three flavours (Oaty vanilla, Banana & Forest fruit) and the Vitaminbar in three flavours (Forest fruit, Banana, Coffee Cacao) and a shaker to get you started.
"I super love jake and have since 2015. It's at the top end of the budget I'm able to afford, so I really only use it while I'm travelling, but it's still something I enjoy for its convenience on the road, and its flavour."
"I'm pretty happy as it is, I drink about 1-2 shakes a day now (usually for lunch and after excercise) and feel great and save time, keep up the great work!"
"Keep it going! Really loved the new bars, they are very tasty now."
Shake
If you want to feel the fittest you can be and maintain a healthy weight while you're at it, go for Jake Original.
Subscribe monthly and save

$

13

$

7

$

26 (?)
Vitaminbar
All the nutrients you need in a single bar. This chunky bar will wake you up and get you going.
All our Vitaminbars have been improved! We have added a crunchy bite, the flavour is improved and last but not least, the texture is refined which makes the bars less dry.
Subscribe monthly and save

$

13

$

7

$

26 (?)