Vegetable tempura are bite-sized pieces of vegetables that are then passed through tempura batter and deep-fried. This way, everyone likes vegetables! Serve the vegetable tempura with this spicy dip sauce for a real taste explosion. You can make the tempura with any kind of vegetable you like!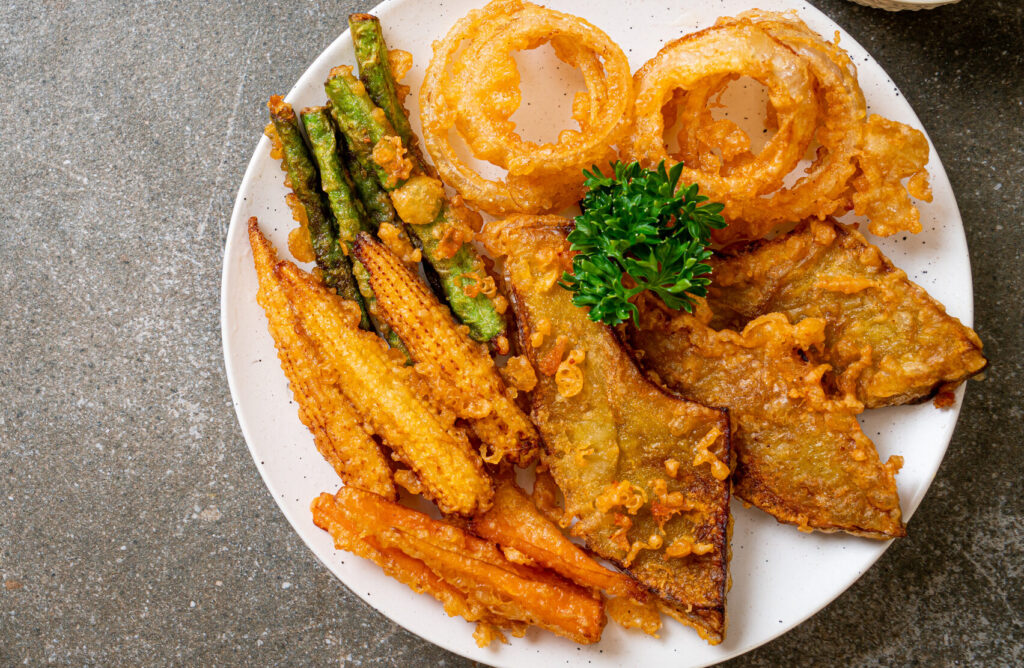 Ingredients:
4 different kinds of vegetables (e.g. broccoli, eggplant, cauliflower, asparagus, green beans, carrot, zucchini, bell bell pepper or mushrooms, altogether about 600 g)
150 g self-rising baking flour or wheat flour + a little baking powder
50 g corn flour, rice flour or cornstarch
500 ml ice-cold sparkling water
Pinch of salt
Dipping sauce:
1 tbsp sesame oil
100 ml rice vinegar
100 ml soy sauce
1 tsp sambal oelek
Preparation:
Cut the vegetables into strips the thickness of a French fry.
In a bowl, mix the corn flour, rice flour or cornstarch together with the wheat flour and a pinch of salt. Then pour in the cold sparkling water and whisk until all the lumps are dissolved.
Next, heat a pan with oil or deep fry to 180 degrees. Pass the vegetable strips through the batter in small portions, and deep-fry for a few minutes until golden brown.
Then drain the fried strips on kitchen paper and finally sprinkle with some salt to taste.
For the dipping sauce, mix together the sesame oil, rice vinegar, soy sauce and sambal to taste to make a dipping sauce. Serve the tempura warm with the dipping sauce on the side.